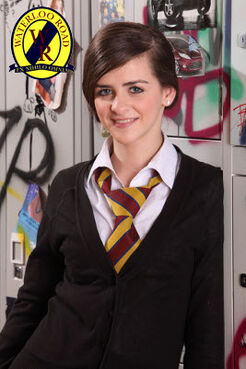 Portrayed by Rebecca Ryan
We first met Vicki in series five as a desperate schoolgirl who was secretly working as a stripper in order to support her family. When Vicki turns up in series six, she instantly befriends Jess and the girls become best mates. Vicki doesn't approve of Jess's promiscuity, and isn't afraid to say so.
Vicki cares about her friends, is incredibly loyal, and above all is a survivor. In series six Vicki's father was taken into a home and Vicki found herself living a very solitary life in a grimy hostel in town – something she didn't tell anyone, not even Jess. When Karen discovered Vicki's story, she moved her into the family home, which gave her the chance to experience some of the family life she'd missed so desperately. But eventually Vicki is forced to stand on her own two feet and move out.
Series 7 follows her still struggling with her personal demons. With her and Ronan's relationship turning stale her head is turned by bad boy Aiden Scotcher who manages to seduce her, despite him dating Jess. They sleep together and Vicky breaks up ith Ronan. She then finds out she is pregnant, but miscarries and reignites her relationship with Ronan.
Her and Ronan have moved into a flat together and they are struggling with rent. Vicky begins to get stressed with her exams coming up, along with the fact that she is afraid that Ronan is cheating on her.